This one is an interesting one – and it was only resolved by a call to Microsoft Support, who do not document that this setting is required.
The scenario is that you upgrade your CRM Router to v9 (as this is required before you upgrade Dynamics to V9) and you enable TLS 1.2 on the router server as well (also documented as required as part of the upgrade).
Dynamics is updated and all your email that is processed using the Router stops. Everything was working before and now it is not!
The fix is simple though – and complex as well. The simple thing is that it is a a single check box you need to set. The complex thing is that as this is a GDPR setting, each user needs to do it themselves and it cannot be enabled in bulk!
The option each user needs to allow is "Allow other Microsoft Dynamics 365 users to send email on your behalf" and that this was checked. This option is located in CRM > Options > Email > Select whether other users can send email for you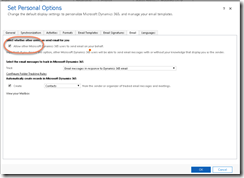 Once each user does this, the router will start to process emails for this user again.