I came across two interesting oddities in journaling in Exchange Online in the last few weeks that I noticed where not really mentioned anyway (or anywhere I could find that is). The first involces routing of journal reports and the second the selection of the journal target.
The journal report, that is the message that is sent to the journal target mailbox when an email is sent or received from the mailbox(es) under the control of the Journal Rule. This journal report is a system message, that is Exchange Online marks it as such so that it is treated and considered differently within the Office 365 service. This though means that Conditional Routing does not apply to journal reports. Conditional routing is where you have a mail flow (or transport) rule, that routes the emails based on passing the conditions in the rule. Journal messages are never subject to rules, and this includes conditional routing as well.
This means that journal rules leaving Exchange Online will always route via the default connector or a standard connector for the SMTP namespace of the journal report target. If Centralized Mail Flow is enabled in hybrid mode, the standard connector for the SMTP namespace is ignored, as all mail routes via the * connector apart from that that is already affected by mail flow rules. As journal reports cannot be routed via conditional routes due to not being processed by the mail flow rules, this means in a scenario where Centralized Mail Flow is enabled, journal reports will only follow the routing to *.
In a multi-organization hybrid deployment, this means that your journal reports from the cloud may end up in the wrong on-premises organization and you will need to route them appropriately.
The second issue I came across is more for a journal test scenario. It is against the terms of service in Exchange Online to store journal reports in a mailbox in Exchange Online, but its only in the last few days I have noticed that you now (and not sure for how long) you have been unable to enter a target mailbox that is in Exchange Online.
For example, I created a new journal rule and entered a target mailbox in a different Office 356 tenant. I was not allowed to use that mailbox. The error message was not clear though, and it took some time to work this out. The error message you get is "The JournalEmailAddress can only be a mail user, a mail contact or an external address"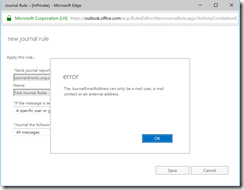 Of course where the journal target address is external to your tenant (an external address), then this error makes no sense. Also if you create a mail user or mail contact that points towards the target it will not be accepted whilst that mailbox exists elsewhere in Office 365. You can enter an address for a domain that is hosted in Office 365, as long as that mailbox is not hosted in Office 365. It is just where the address is currently in Office 365 you cannot make a journal rule to send email to it.
You cannot also work around this limitation anymore either – if you enter a journal target address that is not in Exchange Online so that the Journal Rule setup completes, then go and add that target address to your other tenant, you will see that the journal report messages never arrive. Change it for an on-premises mailbox and it will work straight away.
Therefore it is now no longer possible to even test journaling unless you have an external mailbox. Shame the error is not clearer – would have saved a bit of time!