If you set up an SSTP VPN on Windows RRAS server and are using a wildcard certificate, there are client settings to fix before the client can connect.
If you run the Windows 10 client through the default setup for a VPN you get the following error.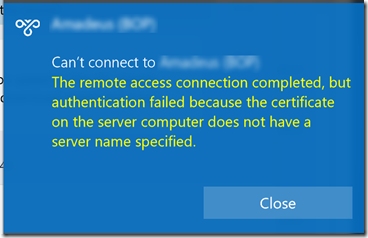 This reads "The remove access connection completed, but authentication failed because the certificate on the server computer does not have a server name specified"
Note that this blog is based on 1709, so the steps are slight different than earlier builds as more of the settings have moved to the modern settings dialogs.
Right click the network/wifi icon on the task bar and choose "Open Network Internet Settings" (with two spaces in the middle – oops, UI bug)

This shows the following dialog in Windows 10 RS3 (1709). If on an earlier build you are now on the old style network settings, which is where we are heading anyway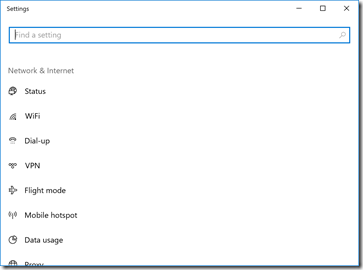 Click Status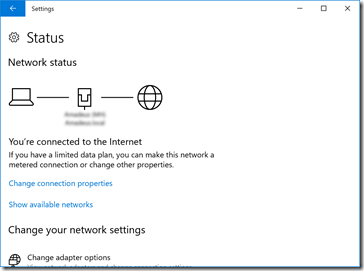 Click Change adapter options
This is the classic Windows networking screen from a number of versions of Windows
Right-click the network connection for the VPN you are having an issue with and choose Properties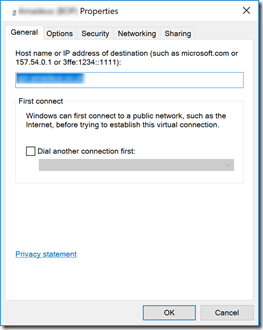 Change to the Security tab
Then change your settings as shown below: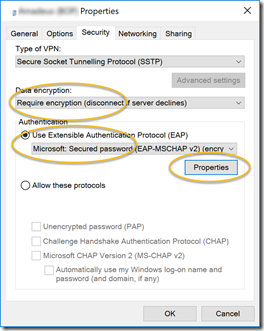 Data encryption: Require encryption
Authentication: Use Extensible Authentication Protocol (EAP): Microsoft Secured password (EAP-MSCHAP v2) (…)
And finally if your machine is a member of the domain that you are signing into, click properties and check the only option here