At the time of writing, it is not possible to add a PSTN Conferencing licence to Office 365 Business subscriptions – or at least that is what the portal shows: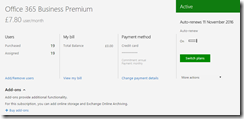 Here you can see that PSTN Conferencing is not an available add-on.
But it is possible to add these licences if you know the URL that will take you to the correct page. If you are logged into the Office 365 portal and visit
https://portal.office.com/SubscriptionDetails?OfferId=A9643248-CF41-4F8B-A29F-507EB6EFAC3E&adminportal=0 then you are allowed to add Skype for Business PSTN Conferencing and once purchased to add it to users with licences that Microsoft do not sell it with.
In my case I successfully added PSTN Conferencing licences to an Office 365 Business licenced user and I was able to do the same for an Office 365 Enterprise E3 user who gets their licence via the partner / action pack free subscription (you can add PSTN Conferencing if you are a standard E3 user, just not if Microsoft have given you free licences).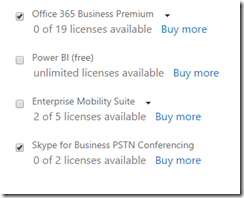 Within minutes the Skype for Business admin portal was available again (it disappeared from the Office 365 portal after the licences where purchased) and then I was able to change the conference provider from a third party to Microsoft within the hour.
After adding the PSTN Conference subscription to the portal I was nicely informed in the portal that I did not have a compatible subscription underneath the licence: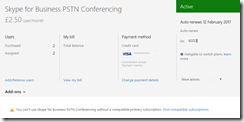 This does not seem to stop me using the product though! The link for compatible licences takes me to https://portal.office.com/Catalog?add=sub&pr=A9643248-CF41-4F8B-A29F-507EB6EFAC3E which shows that I need Office 365 Enterprise E3 or Office 365 Enterprise E1 or Office 365 Enterprise E4 or the standalone Skype for Business Online (Plan 2). Of course the interesting thing about this is that the Office 365 Business subscription contains the "Skype for Business Online (Plan 2)" component, and the users I assigned the licence to have this component